Soap Game This Thursday! 7:00pm 8/14/22 Here is the information!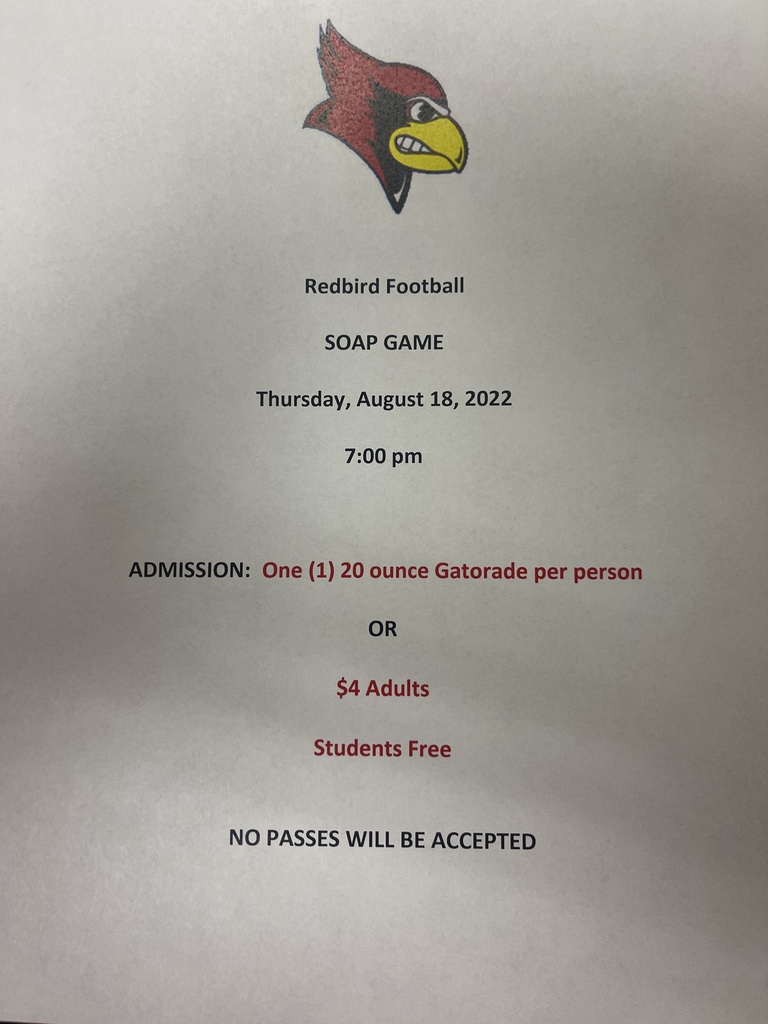 "Last chance to sign up for FLAG FOOTBALL. All kindergarten through 2nd grade kids can play. The first practice will be held this Thursday, August 18 at 6pm at the field north of the vocational school (700 E. St Louis, West Frankfort). Please come to this practice early and get your child signed up if they want to play."

Welcome back Frankfort 168 Staff. So happy to have you back!!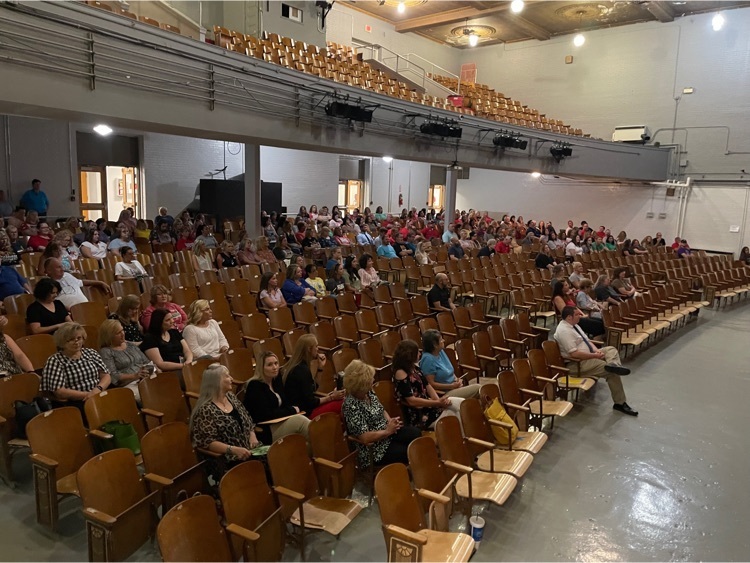 Frankfort District #168 is keeping the students, parents, and staff at Marion School District in our thoughts and prayers after a tragic loss of one of their students last week.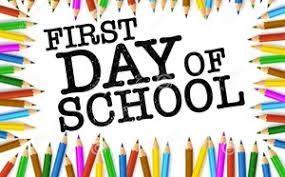 Look what arrived today! Thank you Simple Solutions! We are hoping to increase student attendance at our home athletic events this year. Stay tuned in the coming weeks to find out what these cards will be used for! #GoRedbirds!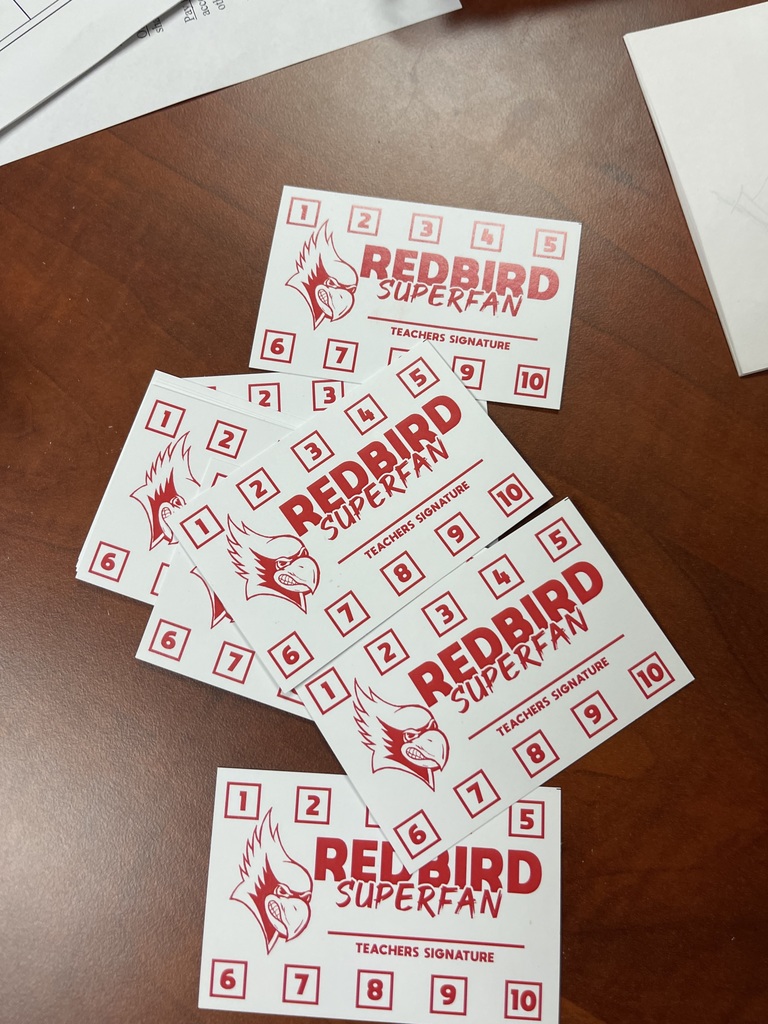 Tailgating Time for our HS Home Football Games! Come out August 24th and get your spot!! Please Share!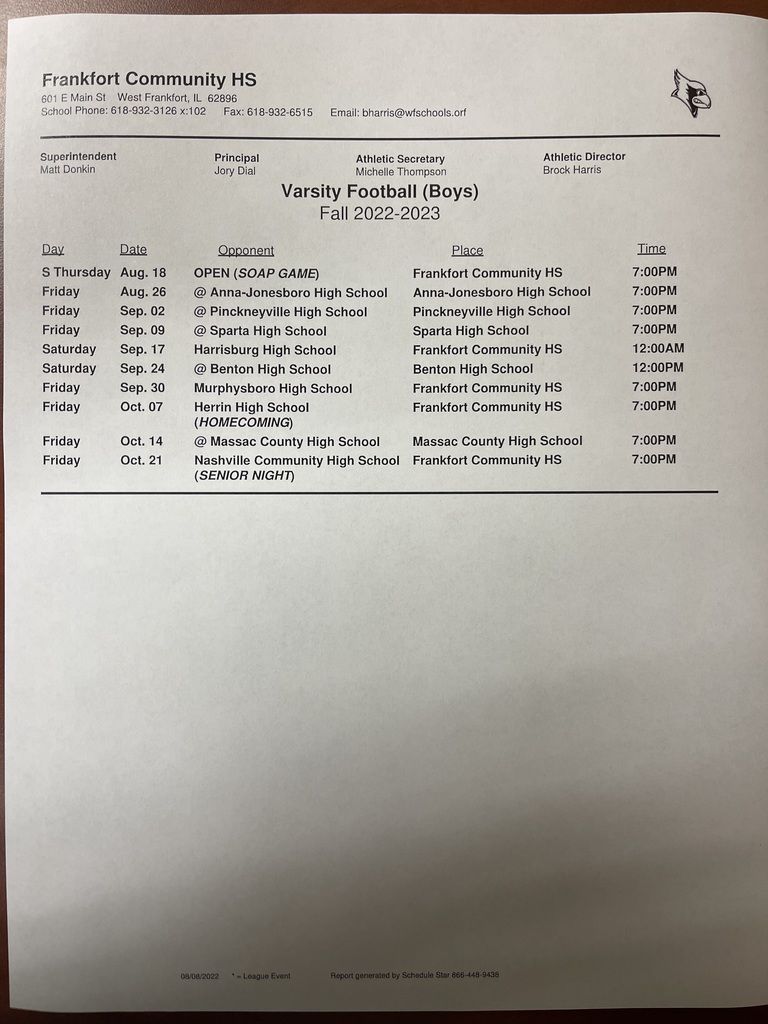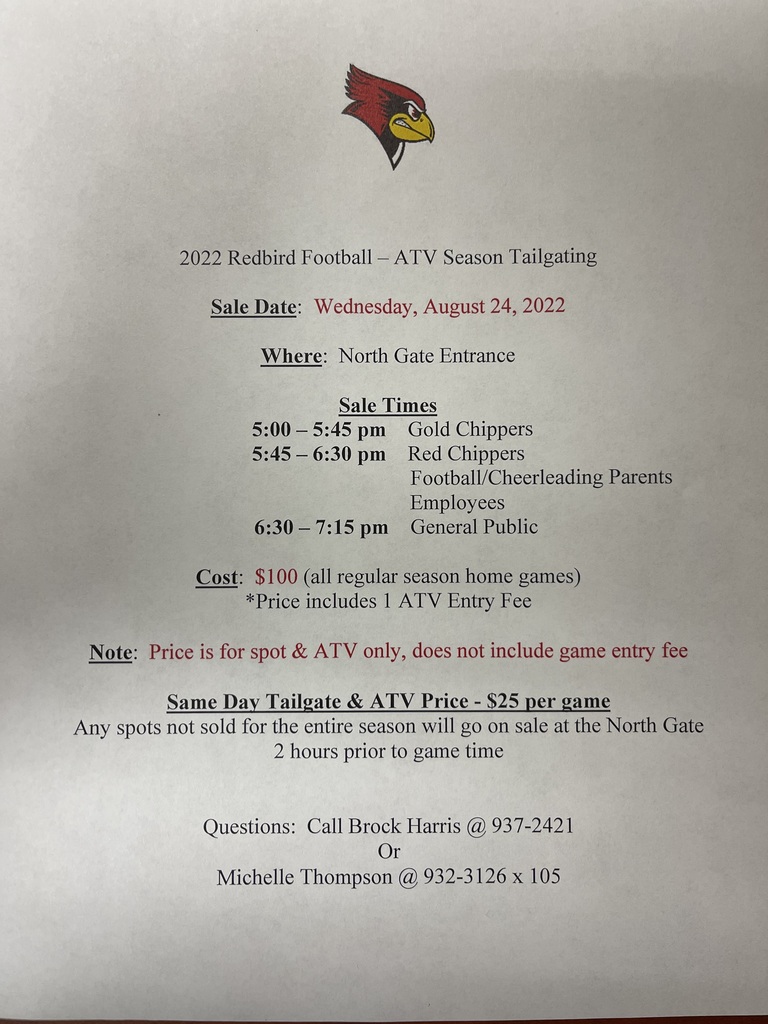 These are our JH sports Schedules for the fall. These are all outdoor sports so there is a possibility of something changing with these, depending on weather.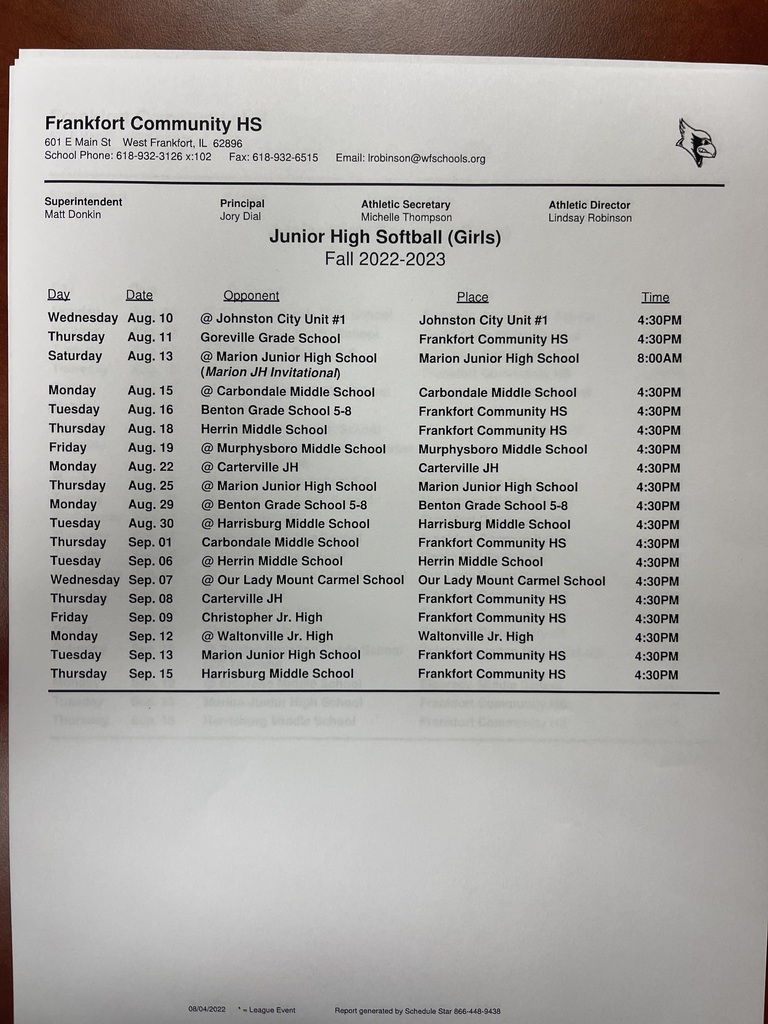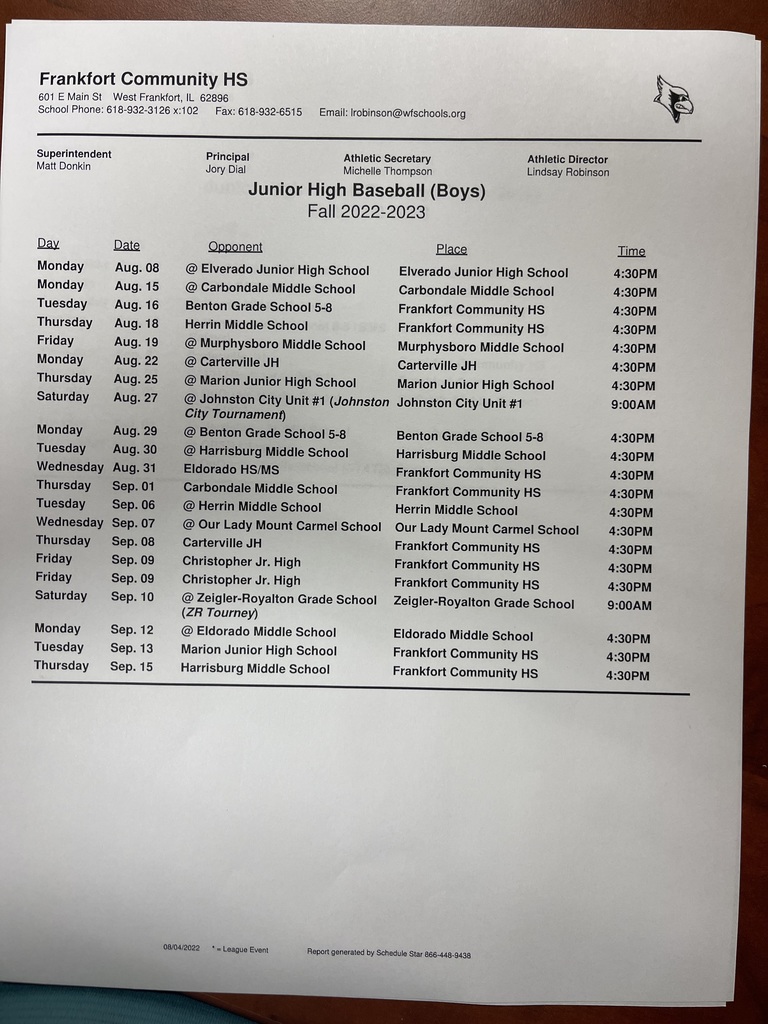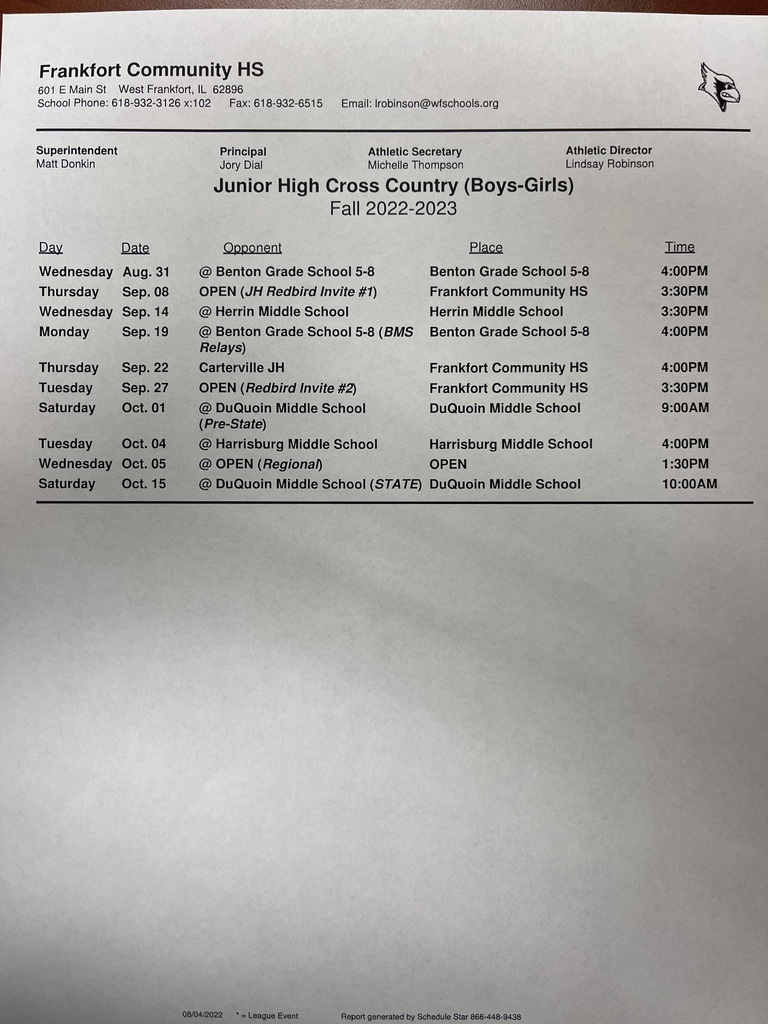 We drew our Raffle winners at the golf scramble this past Friday. The winners were The Yeti donated by Aaron Hopkins - Michelle Ripper The Blackstone Griddle Donated by Herron Rehab - Marla Summers The Helicopter Ride donated by Black Diamond Harley Davidson - Lisa Kondoudis Thanks so much to everyone that bought a ticket. We sold 600 tickets and that money helps our Athletic Trust Fund!

Thank you to all that came out to play at our Redbird Scramble this past Friday. We had 22 teams, great weather, and great food! Thanks to Franklin County Country Club for Hosting the event and thank you to Table 45 for taking care of all the food for us!

Congrats to the Redbird Scramble Winners! Trenton Easley, Keegan Easley, CJ Johnson, and Jordan Johnson! These young men had a great round! Side note, they are either the grandsons or the nephew of the Voice of the Redbirds Jim Johnson!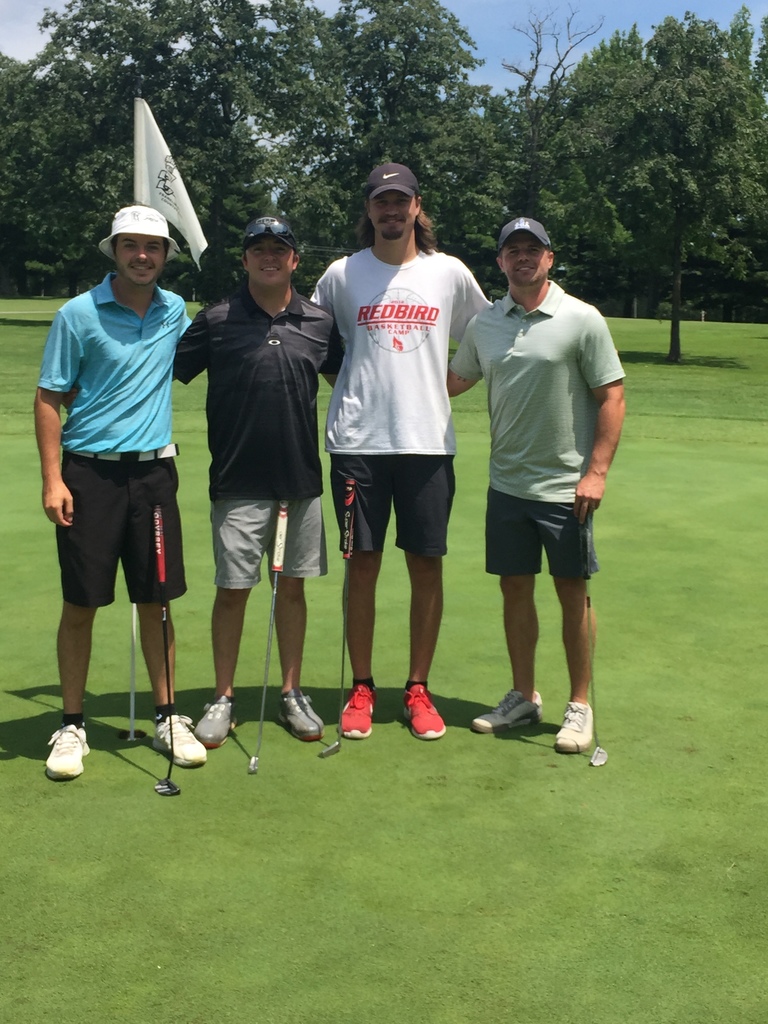 Attention Kindergarten Parents: If you missed the DES Kindergarten Spring Screening, please bring your kindergartener with you to registration on August 1-2 to be screened. All registration forms and screening must be completed to receive your teacher assignment. (All Kindergarteners must be 5 on or before September 1.) Don't forget to visit
https://frankfortdes.wfschools.org/o/des/page/registration-information
for all DES registration information!

Thank you to all the teams that have signed up to play in our Scramble this Friday the 29th. We have reached our limit on teams. If you did not register in time please contact Brock Harris at
bharris@wfschools.org
and we will put you on the waiting list in case someone cancels. Thank you!

Reminder!! Attention Redbird Students who need a sports physical. West Frankfort Family Healthcare Clinic with Jason Dorris PA-C and AST Primary with Emily Roach NP will be offering FREE sports physicals to any student that lives in the district and plans to play a sport, on July 26th at 1pm thru 4pm. These will be conducted at their offices which are located in the J and S pharmacy building.

Look who came in to turn money in for their raffle tickets. She and her team have been rocking it! HS Girls Golf Coach Jessica Grimes!

We are sending out Redbird Chipper information to past members in the regular mail. If you would want to become a Redbird Chipper, please contact Mr. Harris at the Unit Office or Mrs. Thompson at the High School Office.
bharris@wfschools.org
or
mthompson@wfschools.org
.

We just had another athlete come in to get our last 3 tickets. Great Job Dayanara! The unit office is officially out of tickets. Coaches, we have had a few people contact us for more tickets. If you or your athletes are having trouble selling them have them bring them back to the unit office and we will get them sold. Thank you all for helping out the Athletic Trust Fund!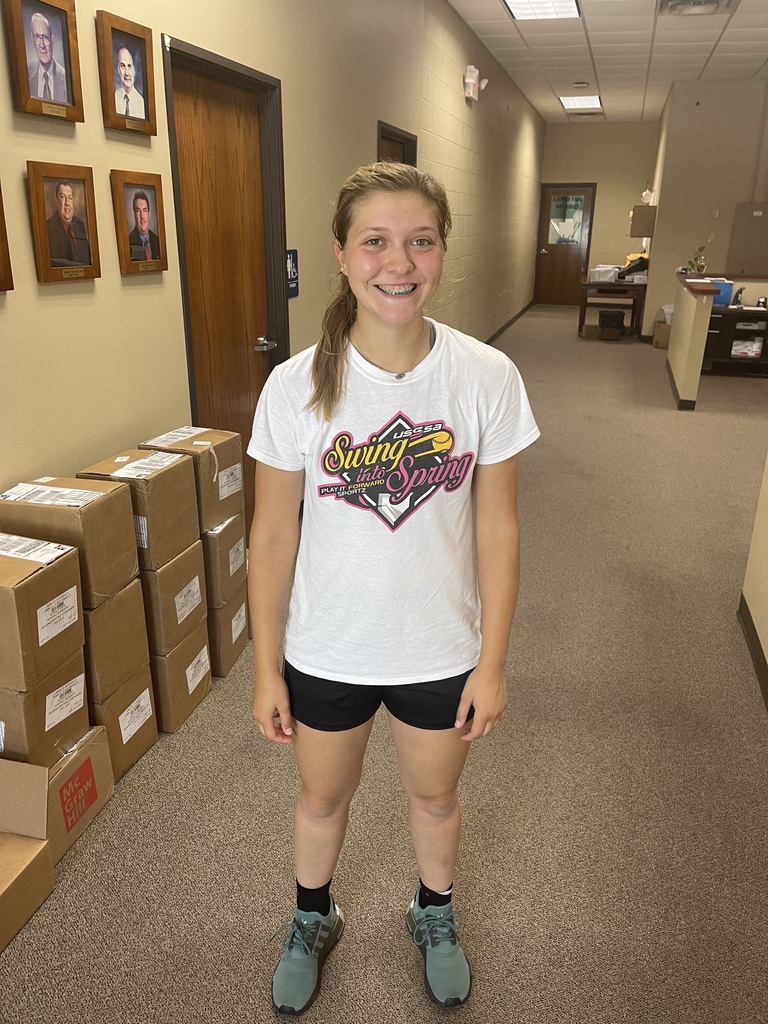 Just had Ms. Annabelle Hopkins come in for more raffle tickets. Thank you to all the athletes and coaches who are selling the tickets for our Athletic Trust Fund!! If you are needing tickets reach out to a HS coach or Athlete. We may have a few tickets at the golf scramble as well. Get your team signed up. 7/29 at Franklin County Country Club. 9 a.m. shotgun start!